If you are a telegram fan then you cannot imagine your life without checking updates and scrolling down your feed. Telegram is known for its highest end-to-end encryption, invulnerable to cyber-hijackers and surveillance, which ensures your communications remain safe from hackers and surveillance, Telegram LLC. With Telegram, users can anonymously send messages, video streams, audio files, and other content around the world on iOS and Android.
Millions of its users around the world use it every day. It recently released the new Telegram X, which is an improved version of its previous app. If for any reason you want to create multiple accounts on telegram, unfortunately, you can't get access to multiple accounts with the same phone number. As there is a somewhat stark security vulnerability in Telegram. If you want to create an account on Telegram, you must have to provide a phone number in order to verify your Telegram account. But you need to know details about how to create Telegram account without phone number. As you will need to confirm a special code sent to your given number as a message or a phone call to verify your account so you can't register your account using any fake number.
If you are wondering that Telegram will use your number for any other purpose, so the answer is no. Telegram does not use your provided number for any other thing after you have successfully registered. Still, there are some privacy-conscious peoples who don't want to expose their number for any means, or we can assume that for this very reason they want to create Telegram Account without using phone numbers. Yet, there are some peoples who want to operate multiple accounts but don't have any other numbers. Fortunately, we can easily override this requirement, as there are some tricks to bypass this requirement and to create a Telegram account without a phone number. So, in this article, you will find out how to use Telegram without a phone number.
Tired of receiving SMS/calls while you're on vacation or out of the office for personal matters? Do you want to enjoy your holiday without getting disturbed all the time? Set easily automatic replies messages on your cell phone for any occasion and don't be disturbed anymore when you're busy or away. Furthermore, You can choose between an elaborated answer or simply a short answer such as "text/call me later".
How to use telegram with Virtual Phone numbers:
There are multiple services and apps that offer you the number to exchange calls and messages. But the only disadvantage of having these numbers is if you are not using these numbers actively they will fetch it back and give this number to another person.
Textnow
Google Voice
Burner
Text free
Sms PVA
Text plus
Godaddy Smartline
Cookies can be helpful for your surfing experience but sometimes they could harm your data security. However, I have listed some easiest steps to clear cookies.
1. TextNow: Use Telegram without your Phone number
TextNow is a free texting and calling app from which you can easily acquire a second number to make your Telegram account. If you want this phone number permanently then you have to pay its premium price. However, as long as you are actively using this number nobody is going to take it away from you.
Follow these steps to know how to use telegram without a Phone number from Textnow.
Install TextNow from the Google Play Store if on Android or the iOS App Store.
After downloading and installing, now select your free virtual phone number.
Often the app will ask your area code in order to create 5 different numbers to select one from it.
Speeding Up a video on iPhone is no more a thing, I have listed some easiest steps to Speed up a video on iPhone more than 2x.
Simply choose a number from here of your choice to complete the setup.
Now, navigate and start the Telegram app on your phone.
Then tap Settings> Your Profile Details> Add Account.
Now, enter your free TextNow phone number which you've just got it.
Now tap on Next which appears in the upper right corner of the screen.
Then confirm the special code that Telegram will send you via text message or via a phone call.
Once your account is verified, type your first name and last name.
2. Google voice: Create a Telegram account without an actual phone number
Althoug, Google Voice is Google's web calling app that provides users with a brand new phone number that can be used for voice calls in addition to SMS.
The application offers a lot of useful features. The only noteworthy warning is that you need a personal Google Account to use the service.
Here is how it works!
Go to Google and create a new account if you don't have one or if you are privacy-conscious.
Now, navigate to Google Voice and select a phone number.
Then register this number on Telegram.
Telegram will send you the confirmation code on this number.
Claim that code from the Google Voice window and type it into Telegram.
Confirm your account and start using it.
Do you know, that you can use your Gmail account without a phone number? This guide will show you How to create a Gmail account without a Phone Number
3. Burner:
Apart from Telegram do you know you can save your space with an Outlet Wall Mount Holder for Google Nest Mini (Home Mini 2nd Gen), A Space-Saving Accessories for Google Nest Mini Voice Assistant 2nd Generation?
Burner is one another who is able to get this job done. It allows you to rent a temporary phone number. This app works like a bridge between your actual and rented number. As the calls and messages are received by the Burner server and transferred to your real number. Burner does not expose your real number to the one who called you. There are two categories of accounts that Burner offers: a short-term duplicator number ideal for checking Telegram which is completely free, and a subscription number which costs you some bucks and you can keep it whenever and as long as you want.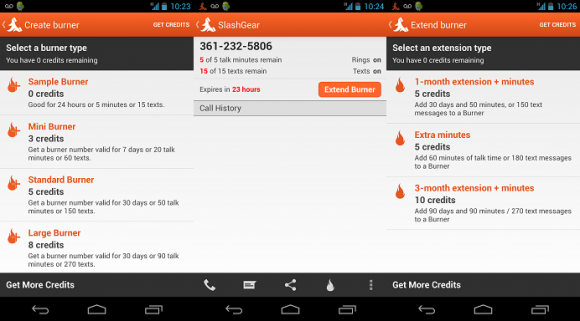 4. Textfree:
A smart service that gives you all the advantages of an American phone number owner. Using this service you can easily receive or send text messages or make calls. In-app calls and incoming calls are completely free, while outgoing minutes cost you a little bit and are available at the lowest rates.
5. SMS PVA:
This site is highly used for SMS activation for a phone number. Do you know how to create Telegram account without a phone number? Hence, you can surely do it practically through SMS PVA. You can find any country-based phone number. Select the phone number according to your required service. If your service is related to the telegram, select the option which will bring you to the payment page.
Please pay for the phone number and register it in your telegram. Understandably, some of you might feel reluctant to pay for it. But buying their phone number is worth buying it. Besides, you can receive quality and durable features that no free application will give you for more than a year.
6. Text plus:
This is another app from which you can get numbers. This app is very convenient and easy to navigate. Multimedia and SMS messages have not been classified in Canada and the United States. In-country and international call charges start at $ 0.02 / min.
Now you can change the IMEI of your phone! This guide will help you know How to change the IMEI number on Android and iPhone.
7. Godaddy Smartline:
Godaddy Smartline is officially a service provider by GoDaddy to generate a US-based phone number for you. If you get its phone number, you can use it for receiving general calls and messages for work purposes. This option is suitable for you if you find out how to use telegram without a phone number. As the service will be supportive and error-free, you must pay for it. Yet, a beginner can join the free trial for a month.
Go to the official site of GoDaddy, offering these services. Write down your area code, and the app will show the numbers based on your area. Now, select any number of your choice. Now, download its application and use the phone number in your telegram account.
How to create Telegram account without phone number?
Telegram has been the most powerful yet used application in the entire world. In some cases, not everyone knows how to create Telegram account without a phone number. Problem solved!
You can download an application called Textnow. This application will provide free Canada and US-based phone numbers for registration.
Download the telegram application on the phone.
Afterward, sign up for the account while giving Textnow generated phone number in it.
You are officially signed in, a telegram will send a verification code on your assigned number.
Browse the Textnow app to check the verification code.
Telegram will verify your account and finish setting it up by adding a picture and an official user name.
TIP
Registering Telegram Without a Phone Number using SMS-man
If you want to register Telegram without a phone number, then here is how you can do it with SMS-man.
SMS-man is a service that offers virtual phone numbers to create unlimited accounts for Telegram, WhatsApp, Tinder, Gmail, and others. Follow the simple instructions:
1. Open the sms-man.com website.
2. Once you enter the website, click on the "Sign up" button and create an account.
3. On the main page you need to choose one of the countries of mobile operator and service (Telegram or any other).
4. Then click on the "buy" button next to the selected service to get a virtual number. Use the purchased number to register in Telegram.
5. Once the number is sent an SMS with a confirmation code, go back to SMS-man and click "Get SMS" to see the received code.
6. Paste the verification code into Telegram to activate your account.
Done, you have registered a Telegram account without a phone number. This way with SMS-man you can register almost any application or site which requires confirmation of phone number
Closing Thoughts
Summing up, now you have an idea of how to use Telegram without a phone number or you can say without your actual phone number. If you are using another method for verification or if you have any problem in doing so, you can mention your experiences and queries in the comment section below.
Thank you
Q 1. Is there any other risk of identification?
yes, there exists another risk. Besides your email and phone number, your mac address is not as secure. Use the VNC offering to change your Mac address.
Q 2. Does this temporary number give the new owner access to the Telegram account?
Yes, if you are active on these acquired numbers, the company will fetch them and give them to some new owner. Now this owner can easily get your Telegram account's access.
Q 4. How can we avoid this problem?
You must have to enable two-factor authentication in order to avoid some other person with a spoofed number's proof hook into your account and can access your conversations too.
Q 5. Can a landline phone number also work?
NO! telegram has to send you a confirmation code via msg. However, for the call option, it might work most probably, if not then use a cell phone number.
Q 6. Can I use someone else's phone number?
Yes, you can, but give this thing a thought that a person can get access to your account easily, and also that if they have to create their telegram account problem will occur due to 2FA being turned on.