IMEI or International Mobile Equipment Identity is a 15-digit serial number that gives a unique identification to mobile phones. This IMEI number is used to identify a device using cellular networks, i.e. mobile data network providers. You can find IMEI number under the battery, and also on your phone's box too. With the help of a unique identifier called the IMEI number, all smartphones are trackable and can be located. This unique identity of Mobile helps in conditions like if your mobile phone has been stolen or you lost it somewhere you could ask the network provider to blacklist the numbers. There is no doubt that it is not as easy to change the IMEI number as it sounds. In this article, you will find how to change the IMEI number on Android and iPhone.
There are users who want to test specific features and applications which is why they want to change their device's IMEI number too. Depending on the single or dual sim a mobile phone can have one or two IMEI numbers. There are different ways for android and iOS devices to change IMEI numbers. We will discuss both topics separately. Let us start.
CAUTION!
Once you have changed the IMEI number of your device, your device cannot be tracked if stolen or lost.
Changing the IMEI number is illegal in many countries, check out your country's telecom policy.
We don't support the changing of IMEI and this article is only for KNOWLEDGE purposes.
How to change IMEI number on Android without root
You can change your IMEI on android without rooting, easily. But this will erase your complete data from your device so be sure to make a complete backup of your data.
First, open the settings on your Android device.
Find and tap on backup and reset.
Now, search for Factory Data Reset in the following list and click on it.
Now, you will get a notification.
Tap on Create new (random) Android ID.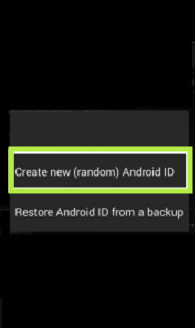 Gaming needs a lot of dedication plus the right equipment, Here we have listed some of the best gaming mice under $50 to level up your gaming experience.
Best Apps to Change IMEI numbers
If you don't want to erase your complete data while changing your android device IMEI you will need a third-party IMEI changer for android. Here we have listed some of the best IMEI changers for android. We have listed the 3 best apps to change Android IMEI below based on the level of complexity and effectiveness.
XPOSED IMEI Changer Pro
This Android IMEI Changer app allows the user to change the IMEI identification number of their device. It generates random IMEI numbers every time the app is used. However, it also allows users to type a new IMEI number if they have any specific one in their mind. This app is very easy to use having a very simple UI. In order to change your IMEI using this app, you only need to click the "Apply" option and then restart your device.
MTK Engineering Mode
This is another app that has a very clean interface for users that can change their IMEI number easily. It was specifically made for Taiwanese device manufacturers like Tecno, Infinix, Elephone, Oppo, etc. However, it also works on non-Taiwanese manufacturers.
Cookies can be helpful for your surfing experience but sometimes they could harm your data security. However, I have listed some easiest steps to clear cookies.
How to change IMEI number on rooted android
Before changing your IMEI number you have to make sure your android device is rooted and you have installed the Xposed framework.
How to root an ANDROID device?
Rooting an android device is not as easy as you have to deal with many Android files simultaneously, which is not easy for a layman. You can root your device manually without the need for a third-party app. There are many applications using which you can easily root your Android device with or without a computer. MAGISK is one of those best apps that help you root your Android device with ease.
Steps to change the IMEI number:
By using the following method you can change IMEI number of all Android versions, even on Android Pie. Now proceed to the steps.
First, copy the original IMEI number of your mobile phone so that in the future if you need it you can easily get it.
You can find the original IMEI of your device by dialing *#6# on the dial pad or you can also find the original IMEI of your mobile device in settings.
Once you are finished copying the original IMEI, then open the already installed Xposed app on your Android device.
Now, go to Modules and tap on IMEI Changer.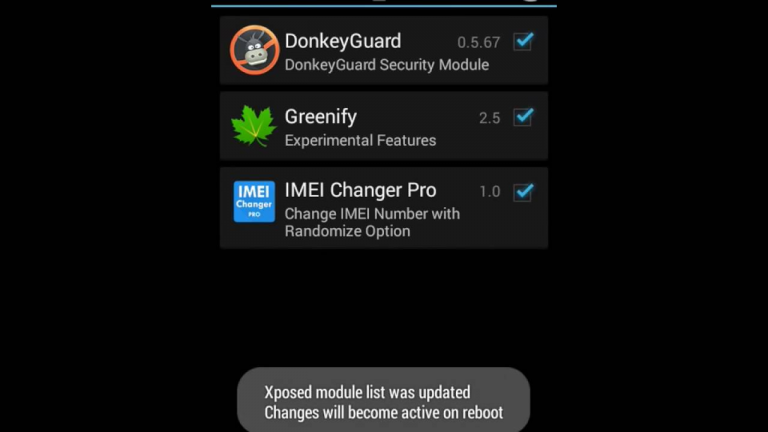 Now, restart your Android device.
You can also soft reboot from the Xposed installer if you want to fast restart your android device.
Once your android phone is restarted, open IMEI Changer. Your Real IMEI number will also be shown in the current IMEI option.
Now, you can change your IMEI Number to a new number by clicking the new IMEI number option.
Then, click on Apply.
Now your IMEI number is converted into your new IMEI number which is shown in the current IMEI number box.
If you want to reconfirm.
Then Reboot your device and dial *#6# to check your IMEI number.
How to change IMEI number on iPhone (without jailbreak)
According to software editors and developers, iOS is one of the most rigid operating platforms that does not allow its users to modify its software, and applications. Most iPhone users fear the performance of jail-braked iPhones. Though there are many latest ways to perform jailbreak for the latest unknown version of iOS it voids the warranty of an expensive Apple device. Features of an iOS device are also very restricted as compared to an android device. In these types of conditions, you have no choice but to use a third-party app to change the IMEI of your device.
There is a tool in your computer named Ziphone that helps in changing the IMEI number of an iOS device without jailbreaking, The steps to know how to change the IMEI number on an iPhone or iOS device using the Ziphone are as follows.
First, open your dial pad and dial *#06#
Now copy the original IMEI number for your device so it would be safe if you need it in the future.
Now download the Ziphone tool on your computer.
Then enable your iPhone's recovery mode by pressing and holding the chip and power button.
Now connect your phone to the computer via cable.
Now, open the Ziphone folder on your computer.
Then press the shift + right mouse button.
Now type "Ziphone" in the command window, and press Enter.
Type this in the command window Ziphone -u -i a123456789012345 (instead of this "123456789012345" type a new 15-digit IMEI number) and press enter.
Now you can check your new IMEI number by calling *#06#
Laws about IMEI
IMEI is created for worldwide users that offer some restrictions for safety purposes only. Therefore, you are highly appreciated if you follow its rules carefully. Otherwise, the services of the network will block your IP address permanently.
1. If you select the phone number on IMEI that is registered on the stolen phone, you can get into custody. That is why you should choose the newest and unique numbers from the option. IMEI officially blocked your number in many countries without including your country's legal actions.
2. Sometimes, users don't know they are using an IMEI phone number in a safe zone. That is why browse the official page of IMEI and enter your phone number. Now check the phone number blocklist. It will give you complete information regarding your phone number.
PROS
Here are the best benefits of changing the IMEI phone number on a device. Check it out before changing it.
It will protect the history of the phone number from hackers.
You can track your phone when it is stolen
The latest features will be available for your phone number.
Great offers exist for users by companies based on a particular area of living.
While the world is moving toward the metaverse, have you ever wondered how VR works?
Final words
IMEI is essential for your mobile phones, it would be better to not change the IMEI number of your mobile without any purpose. I hope now you have a clear idea of how to change IMEI number on your android and iPhone. If you face any problem doing this you can connect with us via the comments section below.
1. How to change the IMEI number of Samsung?
You have to check How to change the IMEI numbers of android and iPhone with or without the root above in this article.
2. Is it illegal to change the IMEI number?
Yes, it is subjected to as a criminal offense in several countries, always take a look at your country's Telecom Policy.
3. Recommend software to change IMEI number free download
Xposed and MTK engineer mood are some of the Software that can change the IMEI of your device.