We often need to shrink file size because it is not expedient for our pc or mobile to store large-size files. If you have recorded a cool video and want to share it with your friends, or if you have set up a surveillance camera around your house or company, then you must have experienced the video size problem. However, you feel curious to know how to compress a video on android. Our phones do not have enough storage space and when it comes to sharing the same video file with someone, this becomes a major concern. If you are recording a high-resolution video with optimal settings on your mobile, it clearly indicates that each second of the video will be 0.8 or 0.9 MB.
Whatsapp automatically optimizes the image you want to share by reducing its size I have told you about How to share high-quality images on Whatsapp without compromising on the quality in pre previous article. But, if you want to send your high-resolution video via Whatsapp, you simply can't, as Whatsapp doesn't support videos greater than 12MB in size. In this case, the only option available is, to compress the size of the Video, and for this, you'll need a Video Compressor. Fortunately, we have some best free software available that works online and offline to compress the size of your video so you can free up space on your phone. In this article, we will discuss in detail to compress a video on Android.
6 Best Video Compressing Apps for Android:
Scroll down to know about some best video compressing apps for android.
1. Resize video:
Resize Video allows you to compress any video on an Android phone and tablet easily. You can also trim the length of the video before compressing it. It also allows users to add music to videos, also you can share videos with different Social Networks like Facebook, Gmail, and more.
2. Video and movie compressor:
Video and movie compressor makes compressing the video very simple. It supports every kind of video format, you can also share your compressed video to different platforms using this app. You can adjust the compression level using the slider. It also allows you to complete the compression.
3. Video compressor: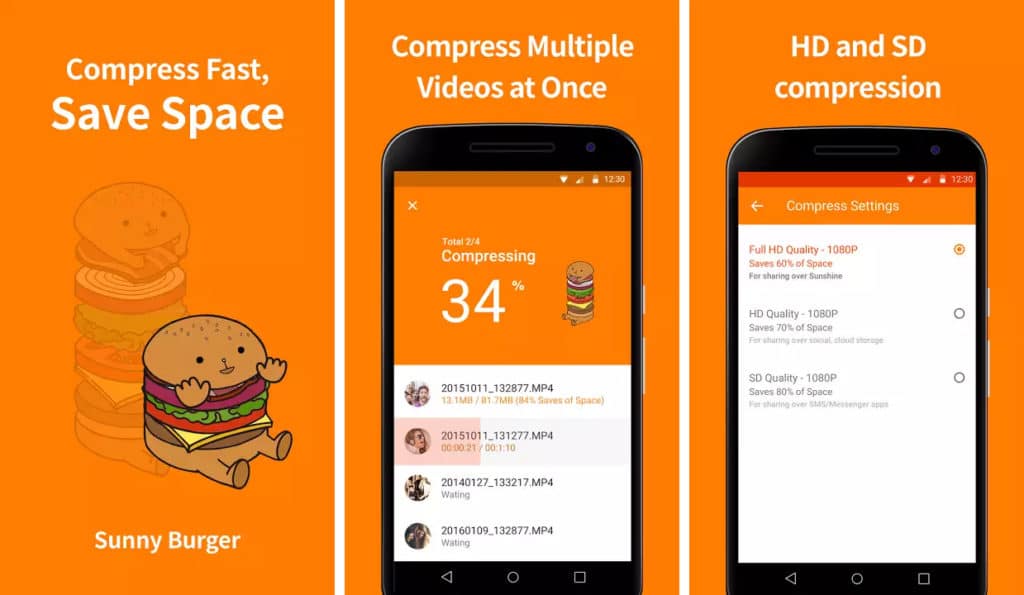 If you want the easiest way to compress your video before sharing it, then Video Compressor is for you. It allows you to choose a video from your gallery in any format, be it MP4, 3GP, or AVI. This app also allows you to preview videos before saving or sharing them with other platforms. With all these positives, there is one con also, this app does not support some video formats.
4. VidCompact (Android)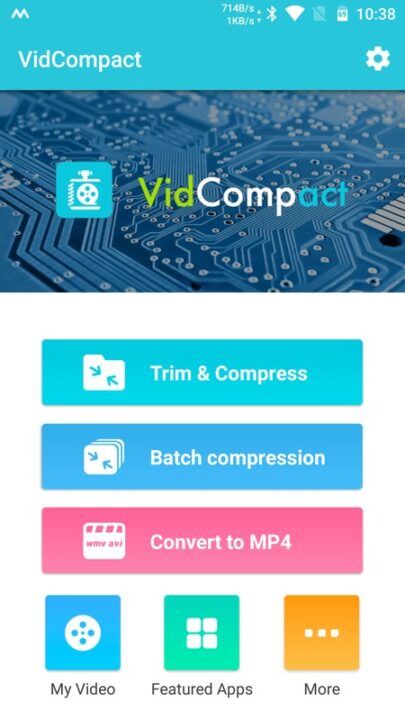 VidCcompact is one of the most useful and portable Android mobile apps that can compress your video. This app also allows you to trim the length of the video and convert it to another format. You can also edit your video using crop, slow motion, pinch, and more. It is very simple to use, just download the app from the play store, open it, and tap on the "Trim & Compress" option.
5. Video compress
Using the Video Compression app can compress the size of your videos and can share on Social media platforms like Google+, WhatsApp, Facebook, and much more, easily. You can set video quality for different compressions like high, medium, and low. This app supports all video formats and also has the option to remove the sound from the video. There is an option to convert your video to an MP3 file and also you can remove the audio from the video to reduce the size further.
6. Video Dieter 2
Using Video Dieter, you can easily determine how much you have to compress your video. However, a reduction in the size of the video will lead to a reduction in quality, so you have to balance it using this app. You can also share your trimmed videos using Video dieter. With all these advantages there are some cons too, that it provides limited options to rename and save the file to different locations.
7. Clideo
Now, I will tell you how to compress a video on Android using a free online video compressor. Follow these easy steps to compress the size of your video.
Download the app Online Video Compressor by Clideo.
Now, open the Video compressor from your play store and upload a file from your Phone's gallery. You can also upload it from Google drive by clicking an arrow icon, or pasting the link from external sources like Youtube.
Now, wait a moment while Compressor does everything it can to compress the video without losing quality.
Check the results before downloading them.
Click on the download option to save the compressed video to your Android mobile.
8. Panda compressor for videos
Finding an application that offers quality service at no cost is difficult. Yet, the panda compressor is the best extension for how to compress a video on android. Here are the specifications of the panda compressor:
1. Install the extension from the Google play store. Please create your account by connecting it with your Google account.
2. After that, you can add a video to compress it without damaging the quality of the content. Panda compressor will help you gain more space on your phone by squeezing videos effectively. Therefore, it will provide you with fast speed in compressing videos.
9. YouCut-Video Compressor
YouCut is a fantastic application that converts videos into an HD movie format. This app is designed with intuitive features if you are a newbie in editing videos or clips. In addition to it, YouCut offers tons of features to have a premium vision in a video.
Select any video for editing and edit the clip by inserting labels, adding music, applying filters, and emojis. A busy person will surely love this app because it is super-fast in providing results. If you cannot take time from a busy schedule, then YouCut will do the job in a few seconds.
Final Words:
Now, you can send your videos to any social media platform without the fear of the size of that video, assuming that you have learned how to compress a video on android. If you know some more video compressing apps, or if you face any difficulty in compressing the size of your videos, let us know in the comment section below.