Windows is the most popular desktop operating system. More than a billion active users currently using the windows operating system on their pcs. After the disastrous release of Windows Vista and Windows 8, Microsoft has worked very hard on windows 10. They added advanced capabilities like touch input, voice-based virtual aids, face recording, mixed reality, capturing screenshots, and much more.
Windows 10 is an unparalleled and one of the most versatile desktop operating systems offered by Microsoft, for sure. Like other Windows operating systems, Windows 10 also comes with many different versions dedicated to different types of devices and specific users. But many people are facing windows 10 wifi keeps disconnecting.
It constantly brings new innovative features with its half-yearly updates. The Windows 10 May 2020 Update does not add any completely new and amazing features, but it is worth the installation. Windows 10 has a feature of WiFi sense which is designed to automatically connect your computer to the Wifi network if the network is an open network or open WiFI hotspot or any other wifi which is already been connected to your pc in the past. However, this feature in some cases does more harm than good.
Related post: How to take a Scrolling Screenshot On Windows
FIX: Windows 10 wifi keeps disconnecting
Many users who in recent past upgraded their Windows 10 have reported that they are facing a problem in connecting their Wifi and the Wifi keeps on disconnecting. Some users have reported that the Automatically WiFI adapter is disabled and was not enabling without a restart. These types of problems occur due to the failure of hardware or your laptop being quite older. Also if an incompatible or old WiFi driver is installed on your pc or incorrect network configuration is. Whatever the reason, if your windows 10 wifi keeps disconnecting, there are several methods to override this problem. You have to scroll down this article to know the fixes.
1. Troubleshoot your Network
The automated Troubleshooter tool has the ability to automatically locate and fix certain problems on your computer. However, this tool is very helpful as you can fix any problem using these troubleshooters. But these troubleshooters cannot fix every occurring issue. To use it follow these steps.
Related post: How to hide the taskbar in Windows 10
Click on the Windows key + C on your keyboard in order to bring up the barcode.
Now, type Troubleshoot and tap on Troubleshoot.
Now type network troubleshooter in the search option above.
Then tap on the network troubleshooter in order to launch the troubleshooter.
2. Uninstall the network card device
If there is an error due to network card driver's corruption, this wifi error could occur even in Windows 8. The solution is you have to uninstall the network card device from
The first step Press the Windows + W key on your keyboard.
Now, type device manager in the search box and press Enter.
Now, right-click on the network card.
Then click Uninstall and restart the computer.
Now, tap on Windows + W key on the keyboard.
Then head to the list of installed programs.
Now uninstall the network card device drivers from this list of programs.
3. Set power options
First, install the latest device drivers from the manufacturer's website. If still the problem is not resolved. Adjust the power options by following these steps.
Head to the control panel
Now click on Device Manager.
Then right-click on the installed network adapter
Now choose Properties from the menu.
Now tap on the Power Management tab.
Allow the computer to turn off this device to save power
Now, click OK to save changes.
If still your wifi keeps on disconnecting then adjust following these steps.
First, head to the control panel.
Now, select Power Options under Control Panel.
Now, tap on Change plan settings.
Then click on the Change advanced power settings to edit the plan settings.
Now, scroll down to the wireless adapter settings.
Now click on the Battery Operation and Connectivity drop-down menu
Then, select Maximum Performance for Both.
4. Reset Wi-Fi AutoConfig service
Tap on the Windows logo and r key at the same time.
Now Type services.msc and press Enter.
Locate and press enter on WLAN AutoConfig.
Now, adjust the startup type to automatic.
Now, Tap on Apply and OK to save.
Quickly check to see if your Windows 10 Wi-Fi connection keeps on disconnecting or not. If the problem is not resolved, then you need to try the next step.
5. Adjust your main network as private instead of public
Tap on the Wi-Fi icon in the taskbar.
Then tap on the connected Wi-Fi network to see the sub-menu.
Click Properties appears below the connected WiFi network
Below Make this computer discoverable, and slide the slider on.
Now, type Homegroup in the Windows search bar.
Tap on the homegroup, and click Change network location.
Then, click Yes in order to make this network a private network.
Then right-click on the Wi-Fi icon in the taskbar and select Open Network and Internet Settings.
Now, tap on Network and Sharing Center.
Now, verify that the listed network appears as a Private Network.
6. Disable WiFi Sense to fix windows 10 WiFi disconnecting
Disable WiFi sense if your Windows 10 WiFi disconnects frequently.
Head to Settings.
Now, tap on Network and Internet.
Now, click WiFi.
Then click Manage WiFi settings.
Scroll down to disable WiFi sense.
Call the proposed open contact points Connect to networks that my friends share.
Save the changes by clicking OK / Save.
Automatically update wireless drivers
If your Problem is still not solved follow these steps.
Tap the Windows logo key and R on your keyboard
Now, type devmgmt.msc and press Enter.
Expand Network adapters, and right-click on the installed network adapter, and click on Update Driver.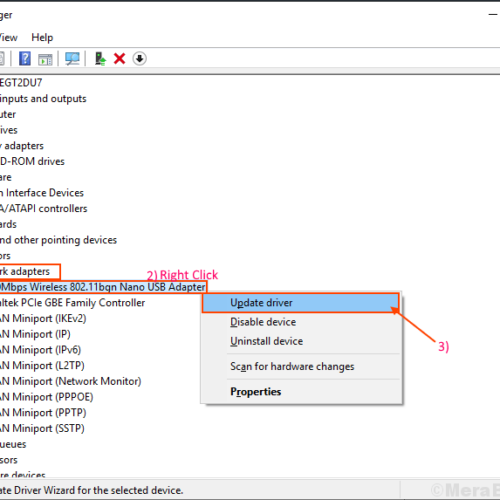 Now select automatically search for updated driver software.
Now, quickly restart your computer to save the changes.