Screenshots are almost as old as computers themselves. In recent years Screenshots are considered the most important tool. It can be used for various purposes, whether you want to capture some important or interesting information for your records, or you want to share some important stuff with your friend. Now you can easily capture an entire screenshot of a scrolling window for a webpage, document, or other content outside the viewable area of your windows screen using a third-party application. In this article, you will learn how to take a scrolling screenshot on windows 10 and older versions and also how to capture a full webpage in chrome and Firefox. So, let's get started
There are many built-in tools that allow you to take a screenshot on Windows 10, Windows 8, and Windows 7. In order to take a screenshot, simply press Ctrl + PRTSC or Fn + PRTSC (for a laptop) and you will get a screenshot immediately now paste in Windows built-in painting tool or anywhere you want. There is also a built-in sniper tool that allows you to snip the part of the screen you want.
No doubt, these features are very useful on many occasions, but when it comes to sharing a long document or multiple images having some important information then you have to take separate screenshots to capture an entire document which is very complicated and frustrating at the same time. As all of these methods only allow you to take a screenshot of the part which is within the dimensions of the browser display area or your screen. So, with problems comes solutions. This is where the concept of ​​a scrolling screenshot on Windows appears.
Related Post: How to hide the taskbar in Windows 10 and older versions.
How to take a scrolling screenshot on Windows 10 and older versions.
First, you have to download the third-party app which allows you to take a scrolling screenshot on Windows. Let's take a glance at apps;
Snagit
ShareX
Picpick
Gofullpage for screen capture
Apowersoft-Screen capture pro
Nimbus
Tweakshot
1. Snagit
Snagit is free for 15 days before a one-time fee of £ 48.43. Using this app you can easily take scrolling Screenshots. Follow these easy steps to know how to take a Long screenshot of your document or webpage.
First, download and install Snagit from TechSmith
Now, create your account or log in to an already existing account.
Then click the red Capture button.
Now, you have to accept some permissions by entering the password for your Microsoft account for authentication.
Then, choose Capture under the "Image" tab.
Now, this will take you to the screenshot preview screen,
Now, click the down arrow icon at the bottom of your screen, titled Capture Vertical Scrolling Area.
Then, scrolling to the bottom of the page will starts automatically
Now, handle capture, as it will be shown in Snagit Editor.
2. ShareX
As we know the print screen and snipper tool are not enough if you want to take a screenshot of the whole webpage or document. So here is ShareX which is absolutely free, unlike other options. ShareX is an open-source application that adds the functions you need to capture any information you want.
Follow these easy steps to know how to take a scrolling screenshot on windows.
Read the license agreement and tap on I Agree. Now click Next.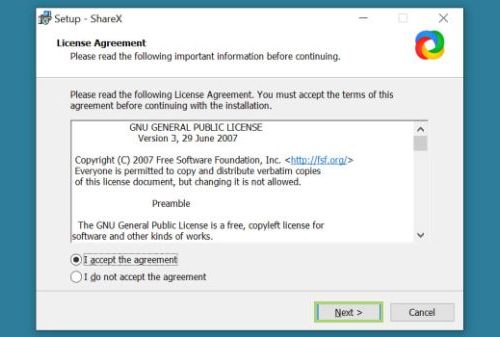 Click Finish to complete setup then run ShareX.
Open the webpage in the background and click Capture.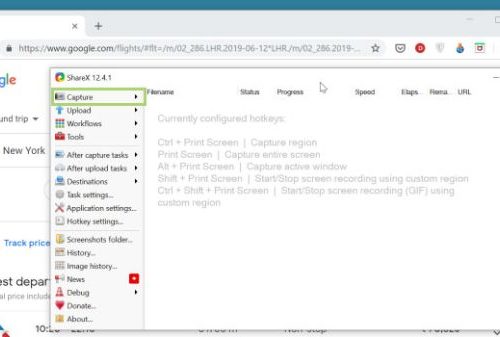 Select Scrolling Capture, from the Capture menu that opens.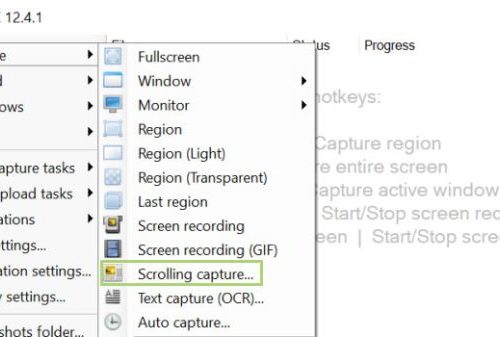 Now, ShareX will provide a captured area defined by dotted lines.
Then, click on Select window or control scroll.
Now, tap on start scrolling capture
Then, tap on Upload/save depending on after capture settings button.
3. PicPick
PicPick is a very useful screen capture and photo editing tool developed and owned by NGWIN. It is absolutely free if you are using it for personal use. It also contains some very prominent features just like any other image editing app like cropping and resizing among many other features, including blurring photos, and adding text and arrows. PicPick offers a built-in Photo editor.
PicPick also has a pixel ruler to measure the size of images displayed on the screen, also a default whiteboard that allows users to draw on the screen.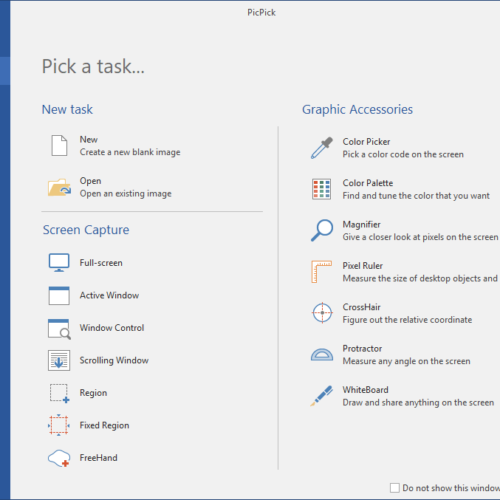 Regarding screen capture, PicPick offers seven screen capture modes so you can customize your screenshot: full screen, active window, window control, scroll window, region, fixed region, and FreeHand. It also has a scroll window mode that allows you to screen capture a full webpage or document with ease.
Follow these easy steps to screen capture the full webpage.
1. First press Ctrl + Alt together, now press PRTSC. A red-shaded rectangular box will pop up.
2. Now tap on the left click, and select the area of scrolling screenshot by dragging your mouse.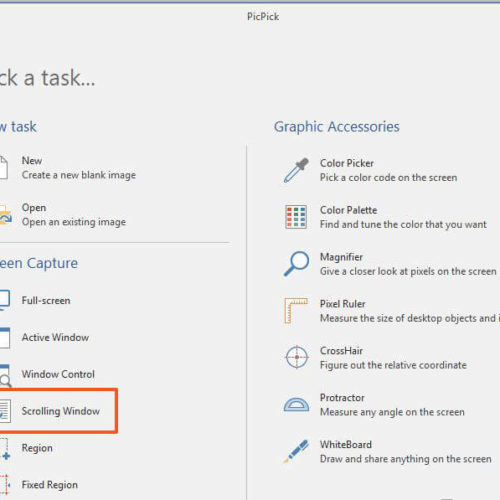 3. Now, slowly the scrolling will start automatically and your entire window will be captured in just a few seconds.
4. Gofullpage for screen capture
Are you still stuck in capturing the entire webpage either from your phone or laptop? Introducing you the one more best extension, Gofullpage, that can capture screenshots without cutting edges. Before installing it on your desktop, they will not show a permission note for installation. It is easy to manage the tool for capturing screenshots in HD quality. That is why this tool has more than five million downloaders presenting the extension as trustworthy for work.
5. Apowersoft-Screen capture pro
Rather than capturing screenshots, you can share them with your friends via cloud space. In the corporate world, Apowersoft software is highly recommended to reschedule your screenshot timings to add engaging content to the presentation. In addition to it, it offers various other features like image editing and annotations. You can use these professional features for free by downloading them. After downloading, pin this software on the sidebar for ease.
6. Nimbus
Nimbus is exclusively in one extension for social media users. Sometimes, random people love to create a scrapbook of a specific niche, like fashion. Therefore, this extension can record online scrapbooks in video form. Select screenshots and modify them in a video. Nimbus adds its magical features to have an aesthetic video for your day.
7. Tweakshot
Take fast shots of an active window and use the advanced features of Tweakshot after every capture. This tool is highly applicable for image editing, like adding filters or changing brightness levels per your choice. Moreover, you can download this extension on any device. For professional use, you must use the Tweakshot premium, which costs you money.
Related post: Windows 10 wifi keeps disconnecting: What to do!
Capture Scrolling screenshots on browsers
There are some add-ons or you can say extensions that allow users to take scrolling screenshots directly from the browser without the need for any other third-party app.
Screen capture full Webpage in Firefox 2
It is just a matter of a few clicks to take a scrolling screenshot of a full Webpage if you are using Firefox 57 or a newer version.
The Long screenshot tool is available in Mozilla Firefox on all web browser desktop variants. If you want to take a scrolling screenshot or long screenshot on your windows, follow these easy steps.
Here's how to take a scrolling screenshot:
First open the desired site of which you want to take a long screenshot, in Firefox.
Click the Page Actions button (three points icon), which appears on the left side of the address bar,
Now, choose the Take a screenshot option from the drop-down menu.
If you want to take a full screenshot of the webpage, select Save full page option in the upper right corner.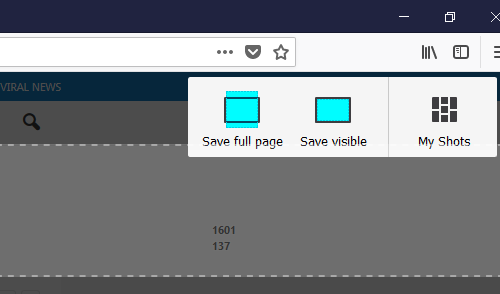 Scrolling windows capture on Microsoft Edge
Microsoft Edge has modified its system by allowing scrolling on multiple sections. It acts as the new sub-tabs in google chrome. The web capture tool will often provide multi-clicked screenshots in a row. Whenever you see something interesting, you can capture screenshots multiple times. If you want an easy way how to take a scrolling screenshot on windows, use the web capture tool. This tool is available for every account. Surprisingly, the fear of losing pixels on images or screenshots is no longer needed. It is due to the new version of Microsoft edge providing qualitative features exclusively.
Capture full webpage in chrome
The "Full-Screen Capture" extension will allow Google Chrome to take a scrolling screenshot of the entire page. It is very simple to use and very effective at the same time. Follow these steps to know how to take a scrolling screenshot in Chrome or how to capture a full webpage in chrome.
First, head to the Chrome Web Store and search for screen capture in the search box.
Now, install the Screen Capture (by Google) extension.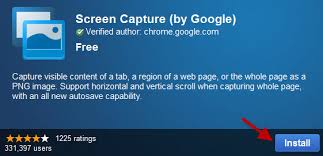 Once the installation is finished, tap on the Screen Capture button on the Chrome toolbar and choose Capture the entire page or simply use the keyboard shortcut Ctrl + Alt + H.
Now, Chrome will scroll down to capture the entire page automatically.
Once the scrolling screenshot is taken, the options bar that allows annotations, sharing, and save capture, will be displayed at the top of the webpage
I hope, I have clearly described how to take a scrolling screenshot on windows even in older versions, and how to capture the full webpage in chrome and firefox. Still, if you are facing any difficulty in capturing these long screenshots you can post your queries in the comment section below.