After some period of time depending on the usage, your computer will be going to slow down, it is inescapable! It does not matter how careful you are with your computer. With the passage of time, many temporary and unnecessary files and caches are accumulated. Along with it, there are many unnecessary files and background processes that make the mess bigger. Even if you are a power user, still it is almost impossible to manually delete these files. Luckily, there are a lot of applications designed to rescue your PC's optimization. In this article, we will compare BleachBit vs CCleaner for your ease.
CCleaner and BleachBit are the two best cleaner apps. They both offer great and helpful features that help you to optimize your computer and tackle these unwanted and unnecessary files. If you are not able to take a decision on which app to choose; BleachBit or CCleaner. Read this article to know about both apps. The comparison of apps includes every aspect of how they work, what are their features, which one is affordable and compatible, etc. Let's read to check the interface of CCleaner and Bleachbit.
BleachBit VS CCleaner: Quick Comparison
| | | |
| --- | --- | --- |
| Categories | Bleachbit | CCleaner |
| Pricing | Free | Free and Professional ($19.95 ), Professional Plus ($29.95), and CCleaner Premium Bundle |
| Open Source | Yes | NO |
| Ratings | 4.0 | 4.8 |
| Highlighted Features | Removes unwanted files. Maintain privacy. It deletes unused Windows registry keys and data. It deletes cookies, clears Internet history, shreds temporary files, and also deletes logs. | Deletes unused and unwanted files. Maintain privacy by deleting traces of your browsing history and other online activity. It cleans and optimizes performance as well. |
| Compatibility | Windows and Linux | Windows, Mac & Android |
| Portable App Available | Yes | No |
| Interface | Easy to use | Simple and interactive |
| Download Link | Download | Download |
Before going further, let's take a quick look at both the tools:
BleachBit vs CCleaner
Introduction To BleachBit
Usually, free software is not as loaded by features as BleachBit is. BleachBit comes with tons of features that can clean your computer but most of the files deleted during cleaning by Bleachbit cannot be recovered. It is very simple and easy to use as its User interface is very simple. Unlike other apps, the best part of this app is that, on your search bar, you won't be stuck with extensions or bundles of apps, upon installation. BleachBit comes in 64 different languages. It does not require any type of technical proficiency as it is very simple to use.
Bleachbit features
File shredding is one of the important features of BleachBit, it is more than a file shredder. It deleted hidden files in such a way that you can't pull those files back even from hard drive data recovery. In other words, once the file is deleted using BleachBit can never be recovered. The tool can easily delete cookies, caches, temp files, browsing history, also logs in order to safeguard your privacy when it comes to cleaning.
BleachBit can clean apps such as Internet Explorer, Adobe Flash, Chrome, Safari, Opera, Firefox, and many others. This app is so portable that it can clean your Windows without getting installed in your system.
Features That Make BleachBit Stand Out:
You can use BleachBit for many purposes like,
You can boost your system's performance.
It can be used to reduce the size and time to create a Backup by deleting unwanted files.
Free your device's Disk Space
This app is also used to maintain the privacy
This advanced cleaning tool helps to clear the memory of your Linux, it can delete Firefox URL history with no damage to the complete file, delete other junk files, etc. Now it's time to compare the price of BleachBit vs CCleaner.
BleachBit Price and Cost Considerations
BleachBit comes for free and is an open-source tool protected under a GNU license. It is the same license that uses to protect free open-source nature and Linux availability. Open-source software has another important feature too, that it can be audited by third-party security companies and independent developers.
BleachBit's perks are, one being free and another one is that it is open-source which can be audited for security purposes.
Introduction To CCleaner
CCleaner or crap cleaner is one of the best apps when we are considering maintenance tools. Apart from cleaning and optimizing the performance of your computer, it can also protect your privacy so that your computer runs faster and smoother.
CCleaners Features:
CCleaner is very easy to use and has a very simple UI so that cleaning your computer will be just one click away. This tool also keeps apps, installed on your computer updated and also eliminate loophole so you will be safe from the troubles of cybercrime.
This cleaning tool offers very advanced features for professional users. It can easily delete all the unnecessary files also it can delete settings to clear up your disk storage. This cleaning too protects your privacy by deleting your browsing history and cookies so that all the traces of your online activities will be removed. Also, it keeps your sessions anonymous.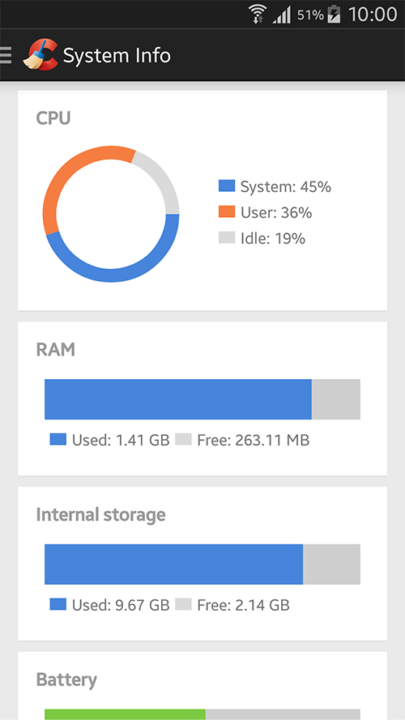 It is not just a cleaning app it also helps in optimizing your computer's performance by removing errors and other loopholes on your device in order to eliminate the chances of your system getting crashed. Not just this, it also helps in making your Windows boot up faster by managing Start-up items.
CCleaner price and cost considerations
According to BleachBit vs CCleaner, the prices matter to pick an affordable and functional one. So, CCleaner is not completely free to download as BleachBit which is free to download and use. However, it offers its free version but it follows the Freemium model of business which is why all the features are not available in the free version. The CCleaner pricing plan is as follows:
Freeware CCleaner – $ 0
CCleaner Professional – $ 24.99
CCleaner Professional Plus – $ 39.95
If you are confused between CCleaner freeware and CCleaner premium there is a small comparison between free and paid versions of CCleaner.
CCleaner freeware:
Remove unnecessary files and optimize your computer.
Protect privacy by deleting your web history and cookies.
Reduce boot time by managing startup items.
Professional version of CCleaner app:
It automatically cleans junk and unnecessary files regularly in order to optimize the performance of your computer
It protects your privacy by deleting cookies and browsing history automatically when you are not active on the browser.
This version updates automatically once a month.
It also eliminates any loopholes which could be dangerous to your computer.
Also Updates apps
This version maintains your disk this way that you will never run out of your disk space on your computer.
If you want to enjoy more professional features you need to get CCleaner professional plus. With this version, you get the following additions:
You can recover files
Disk defragmenter
Hardware inventory features
However, you can also try a trial version where you don't need your credit card information before you sign up
According to us: BleachBit vs CCleaner.
Now you got a clear idea of what CCleaner offers and what is BleachBit is capable of. Depending on the consumers both tools are best in different aspects as both are offering many different features. If we consider CCleaner freemium then BleachBit is offering more no doubt. However, BleachBit doesn't stand a chance in front of CCleaner's professional versions especially CCleaner professional plus, as this $39 tool offers in-depth cleaning, automatic privacy protection along with real-time protection, disk defragmentation, file recovery, and optimization in one tool. Do you really think BleachBit would be able to compete with that much?
CCleaner or Crap Cleaner has been around for quite some time and is quite used by a lot of people in their computer using years. CCleaner is available as both freemium as well as premium. It comes in three versions, one is free and the other two, professional and professional plus versions are available at $24.99 and $39.35 respectively. BleachBit is available on Windows and Linux whereas CCleaner is available on Windows, Android, and Mac. Well, there can be no real comparison between the paid version for business and the open-source tool. We can judge both of their freemium versions to know which app has to offer more.
Final words
Finally, in this article, we have seen a comparison of BleachBit VS CCleaner and also what both of these software offers. If your purpose is just to try out a cleaner app, then BleachBit is the best option for you. However, if you want more features like clean, disk defragment, privacy protection, and file recovery then CCleaner is a winner for sure. So what do you think about which one is better? well, what I think is that it all depends on your needs.
FAQs
1. Is Bleachbit safe to use?
Yes, it is very safe infect it protects your privacy by deleting your cookies and browsing history
2. Is CCleaner safe to use?
Yes, CCleaner's free as well as paid versions are safe to use and also protect your privacy by removing your online activities.
3. What is CCleaner used for?
CCleaner is a cleaning and optimizing tool for your computer.
4. Is CCleaner malware?
No, it is not.
5. Is BleachBit good to eliminate unusual files?
It is the best extension to eliminate unusual and junk files from the computer system. But it will not scan or manage your system.
6. Is CCleaner still good than other apps?
Undoubtedly, CCleaner is better because it is safe for your hardware as well as software. This app is easy to use for computers. Also, CCleaner is available at a cheap price to clean the software system. Alternatively, in BleachBit VS CCleaner, both work efficiently and BleachBit removes junk files.