Twitter brings a new way for users to post their thoughts and ideas on this platform, as Twitter added another feather in its cap. According to Twitter IOS users can now add voice tweet to their Twitter handle it also adds that in near future this feature will roll out for every user. However, users, regardless of whether they are using iOS, Android, or desktop, will be able to view and listen to audio tweets in their feed.
Voice tweet is an amazing addition to already existing many exciting features. Before this feature users face difficulties as they are restricted, to sum up, their thoughts and ideas within the limit of 280 characters, Twitter says you can add more to it using this new feature.
According to Twitter:
"Over the years, photos, videos, gifs, and extra characters have allowed you to add your own flair and personality to your conversations. But sometimes 280 characters aren't enough and some conversational nuances are lost in translation.
So starting today, we're testing a new feature that will add a more human touch to the way we use Twitter – your very own voice."
Voice Tweet: Some additional notes
Voice tweet, for now, is only for original posts so, you can't use this feature in retweets and replies in comments.
Like 280 characters restriction voice tweet has also restricted to 140 seconds only if you exceed this limit google will create a subsequent thread of your voice tweet automatically.
You cannot download voice tweets if it is not posted by you.
The numbers of listeners will show right below the voice tweet just like youtube.
This feature is currently available for iOS
How to compose Voice Tweets
Composing a voice tweet is as simple as writing a tweet.
1. Open the tweet composer where you write your tweet usually
2. Tap the audio option which is in the purple shade and resembles with a bunch of soundwaves. If this icon does not appear it means that a voice tweet option is not available to you.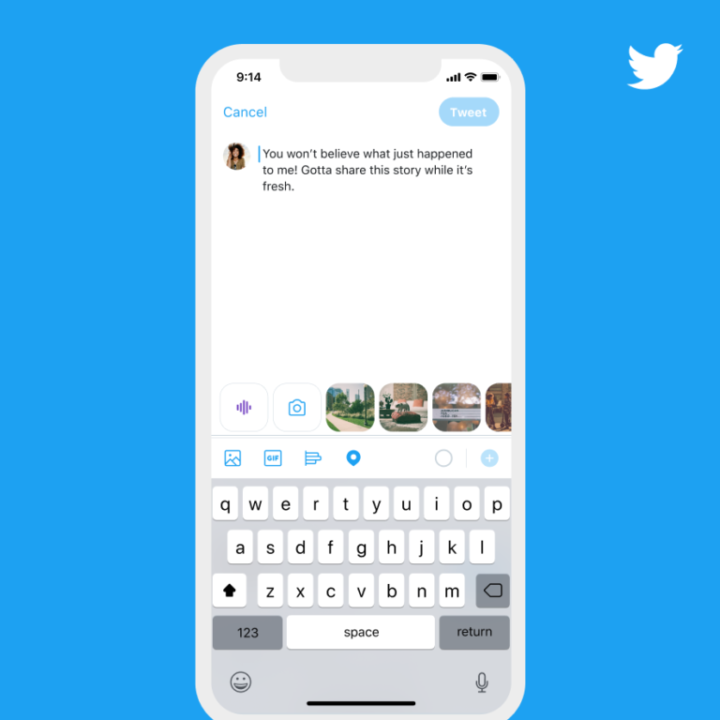 3. Now another screen with your profile picture appears. Find the record button in the bottom and tap on it to start recording your voice tweets.
4. You have 140 seconds to record your tweet if you want to extend it you simply just not stop talking twitter will make a subsequent thread of it.
I hope you have got an idea of how this feature will work, to whom it is now available, and how to compose voice tweets. Share your queries and experiences with us in the comment section below.