Samsung had already announced its new Samsung QHD gaming screens, Samsung odyssey G9, and G7 in the first quarter of January at CES 2020. After a long wait of about six months, Samsung has now finally started taking pre-orders for both new curved Samsung QHD gaming screens.
Sizes and Specs of Samsung Gaming Monitors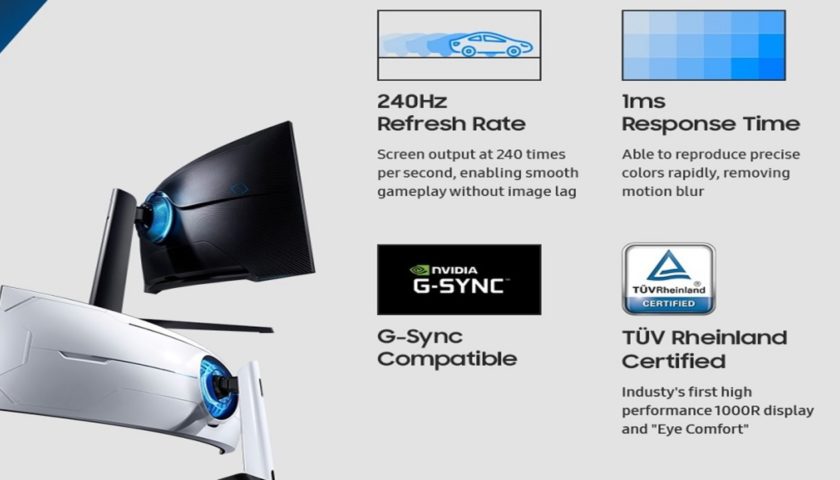 The Samsung Odyssey G7 available in two sizes, the G7 32-inch or 27-inch Quad HD display has a resolution of 2560×1440, with a 16: 9 aspect ratio. The 49-inch G9 screen has Dual Quad HD 5120×1440 and a 32: 9 aspect ratio. Each model has a curved VA QLED 1000R 1440p panel with a 240Hz refresh rate and 1ms response time and support for FreeSync 2 and G-Sync variable refresh rate technologies. The 240Hz refresh rate with 1ms response times allows players to keep up with the overload of the information displayed during high-intensity multiplayer matches. All of this term translates into a distinct screen with an incredibly gentle curvature when displaying an image and responding to entries. This finally results in a very smooth and soothing display for gamers, providing that your graphics card can offer high frame rates.
Additional features of the Samsung Odyssey Gaming Monitor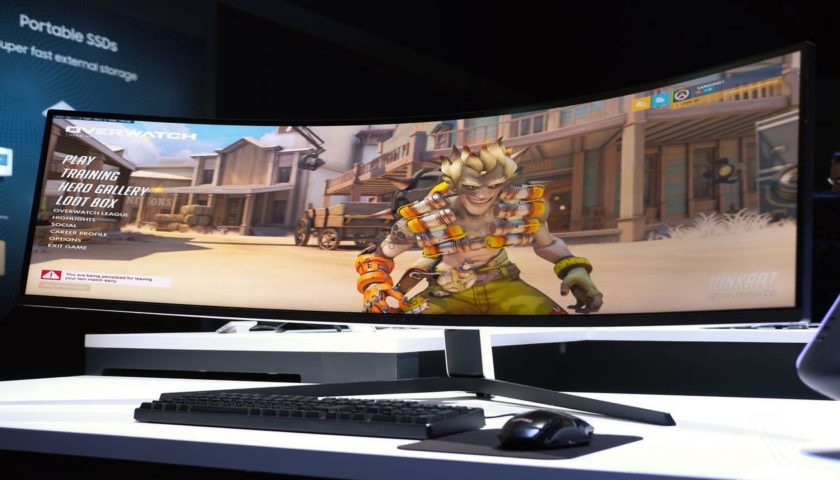 There are some differences regardless of size. The design of the G7 and G9 match the specifications of the screen In terms of aesthetics, these two monitors look similar from a distance. However, the G9 has glossy white plastic on the back which has an LED lighting ring where the stand meets the Samsung gaming monitor you can control and program with 52 colors and five lighting effects, while the G7 has a black cover with a circular blue light in addition to programmable light accents. Odyssey G9 screen resolution is 5120 x 1440, while the G7 screen resolution is 2560 x 1440. The most expensive G9 version has an HDR1000 rating, which is brighter than the HDR600 rating for both sizes in G7.
Odyssey uses Samsung's QLED Quantum Dot pixel technology that claims 125% more color than standard sRGB output. Thanks to Quantum Dot technology, the QLED panels used in the G7 and G9 will provide a high-quality picture. Similar to what you will experience with the Samsung QLED TV. Samsung Odyssey G9 49″ also includes Infinity Core lighting. It permits the user to adjust the external main lighting ring at the back of the screen. The color range can be adjusted to suit the indoor LED configuration in your room.
Price and Availability
Samsung's highly curved gaming monitors are now available for pre-order to the public. Samsung Odyssey G9 gaming monitor 49 " for $ 1,699. Also Samsung Odyssey G7 curved gaming screen 32″ order is also available for $ 799 and 27" at $ 699.99 with the expected shipping date of July 13
So, if you are a passionate gamer and want to step up your game. This Samsung gaming monitor is for you for sure. Either you are considering G7 or G9 both ways you will not be disappointed.
I hope this article helps you to know the price and some thrilling features of the Samsung Odyssey gaming monitor. Share your queries and experience in the comment section below.